07jul(jul 7)9:00 am12(jul 12)5:00 pmEvent OverEvent CancelledBamboo Camp in Kolli Hill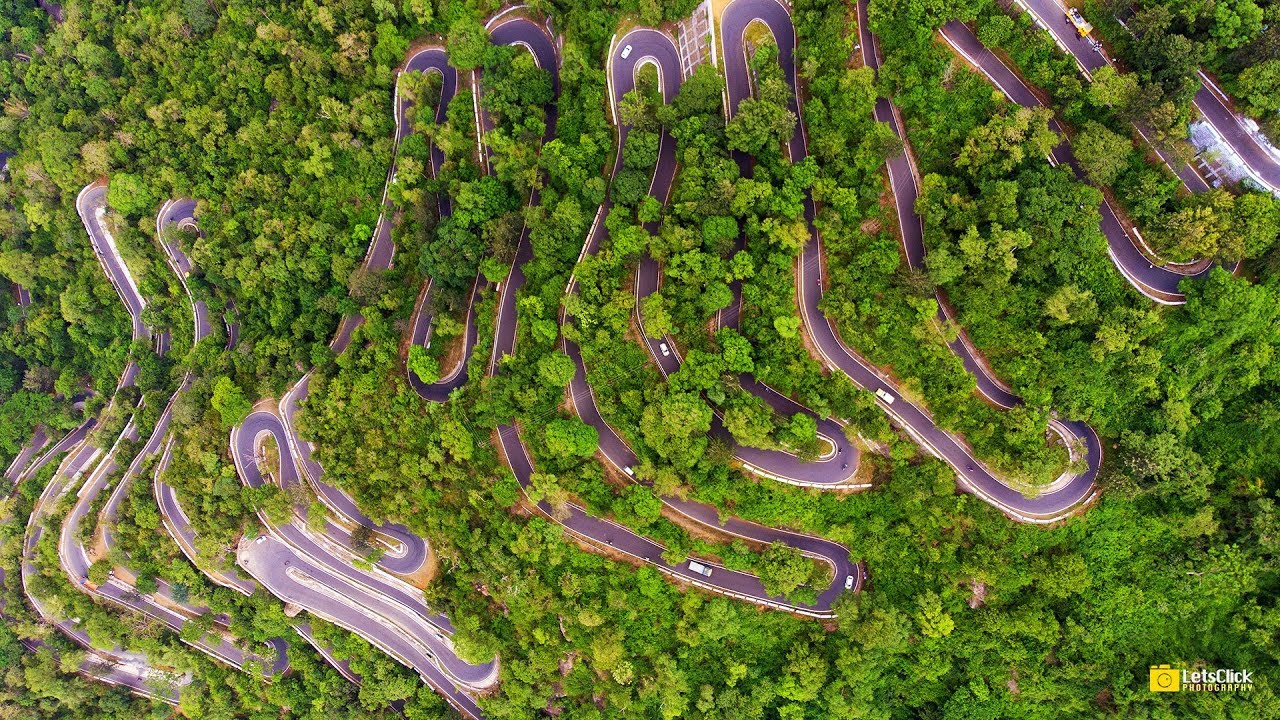 Event Details
Overview:
The Bamboo Camp is a 1-weekimmersive learning experience that offers the opportunity to learn the fundamentals of bamboo construction and sustainable living, while engaging in a unique self-inquiry in the company of an international team of mentors.  The Camp takes place in Kolli Hills. 
BENEFITS & WHO IS THIS FOR?
 The Bamboo Camp is perfect for anyone who wants to gain skills and hands-on experience working with bamboo, one of the most eco-friendly building materials, while also exploring various aspects of sustainable living. It is for anyone who is concerned about building a more environmentally sustainable world.
An essential aspect of building a more sustainable world is the quality of the consciousness we bring to it.  Our outer environment – whether built or natural – reflects the state of our inner awareness.  
PROGRAMME OUTLINE
The Bamboo Camp will take place over 6 days, covering full day intensive sessions offered daily from 9 AM to 5 PM.  The sessions are offered according to two areas of focus, as follows:
1. NATURAL BUILDING WITH BAMBOO
Bamboo is an eco-friendly natural resource known for its rapid growth. As a core component of the Camp, participants will gain the basic knowledge, skills and practice needed for bamboo construction, as well as technologies that use bamboo in combination with other local materials.  Sessions include:
Theory and practice of working with bamboo

Treating bamboo against insects

Bamboo carpentry: bending, cutting, joineries, split and weave bamboo

Bamboo construction
After learning basic skills in bamboo technology, participants will help in making a bamboo structure and learn the know-how of building construction. 
2. ABOUT KOLLI HILL – Eastern Ghats 
Kolli Hills or Kolli Malai is a small mountain range located in Central Tamil Nadu and spread over the Namakkal district and Tiruchirapalli district of India. The mountains rise to 1300 m in height and cover an area of approximately 280 km2. They are part of the Eastern Ghats, which is a mountain range that runs mostly parallel to the east coast of Southern India. The mountain is a site of pilgrimage, because of the Arapaleeswarar temple, but the area is also popular with Motor cycle enthusiasts because of the high altitude motor-able terrain with 72 hairpin bends
Day 1 
09:00 – 09:30 Registration

09:30 – 12:00 Introduction about Kolli hill and bamboo; the material and its properties, it's Application and matters relating to its use in construction.
12:00 – 12:30 Visiting  the location  
01:30 – 05:00 Intro – Tools/Joins/Bending/Techniques / Fish mouth Joineries 
Day 2
09:00 – 05:00      Intensive practical work put your skills to the test! 
06:00 – 07:00   Camp fire and drum circle 
Day 3
09:00 – 05:00      Practical work on construction  
Day 4
09:00 – 05:00      Practical work on construction  
Day 5
09:00 – 05:00      Practical work on construction 
04:30  – 05:00     Closing Discussion 
Day 6
08:00 – 05:00      Local Site tour and trekking   
Things to bring for the workshop, (Optional)
Loose and comfortable clothes for Site Work;

Air Mask;

Ear plugs;

A Cap;

Eye Protective Goggles;

A Book and a Pen

Bed sheet

Tarch light 

Tent (if possible)
GENERAL INFORMATION
Programme Rate: 20500 Rs. * Includes:
Accommodation for 6 nights in Kolli hill

All food 6 days (3 vegetarian meals a day) 

Costs of local excursions within Kolli hill 

Use of local transport in Site 

Certificate of attendance
Terms: 

50% deposit of workshop fee required on booking with balance payable prior to commencement of workshop.

Cancellation:

 Up to 2 weeks before workshop commencement we retain 25% of total fee due.
From 2 days to workshop commencement we retain the 50% total fee.
Notes:

 All booking communication is completed in writing by email.
Auroville has a strict no alcohol or drugs policy. Anyone disregarding these rules will be requested to leave the community immediately and no refunds will apply.
Facilities: 

Interns should not expect much comfort. Basic facilities and needs will be provided for.

Accommodations:

  basic shared rooms or Tents (3-4 per room)
Transportation within Kolli Hill transport will provided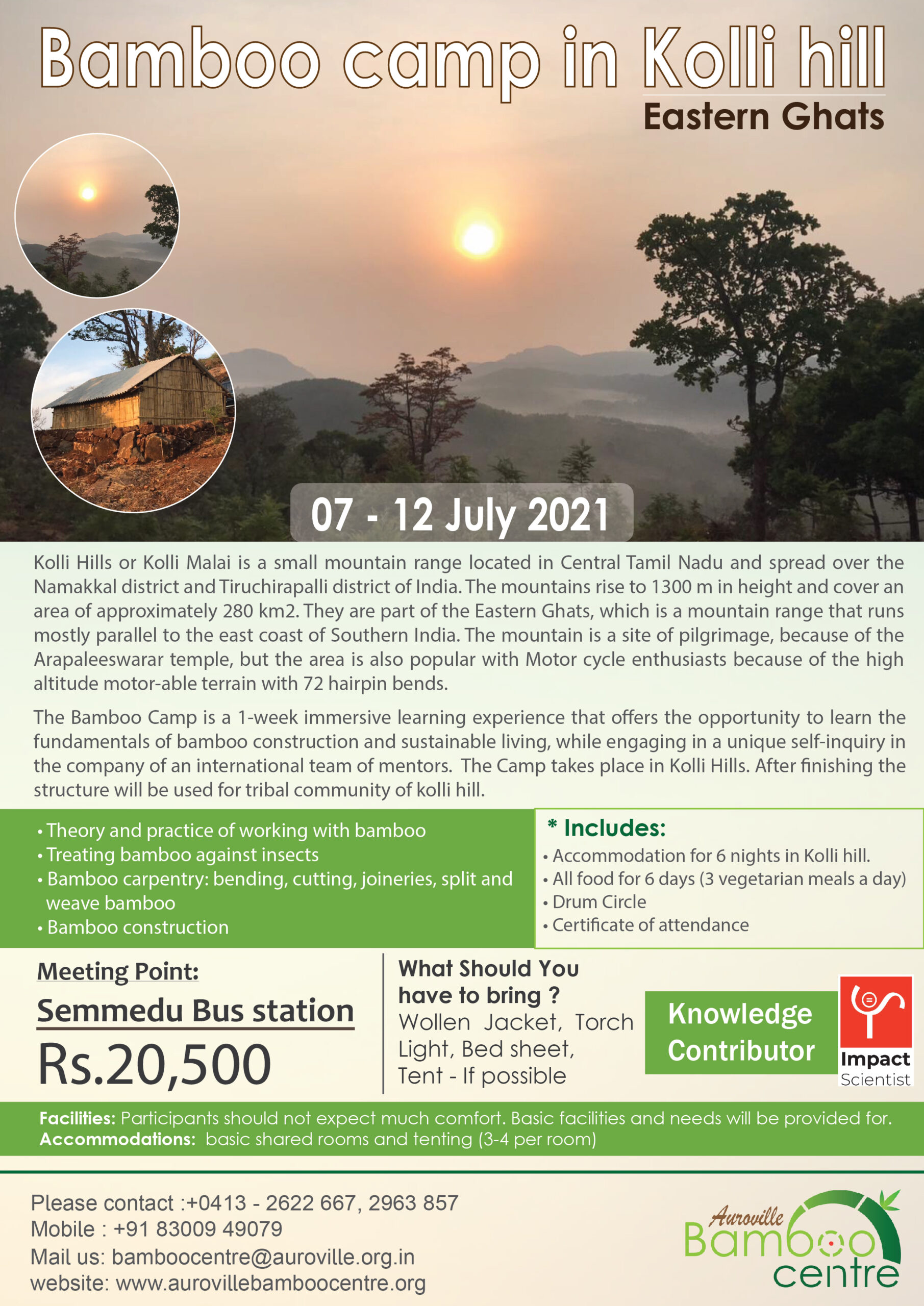 Time

7 (Wednesday) 9:00 am - 12 (Monday) 5:00 pm
RSVP to event
RSVPing is closed at this time.