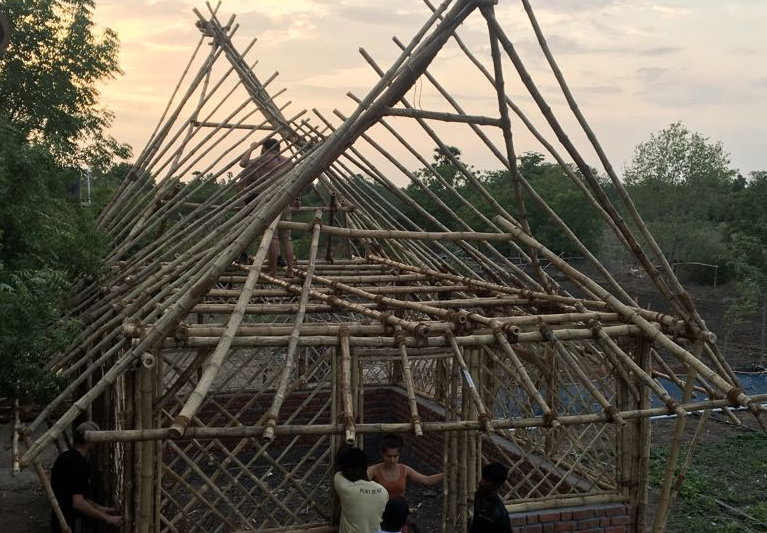 Bamboo Construction Workshop – Special Construction Workshop
INTRODUCTION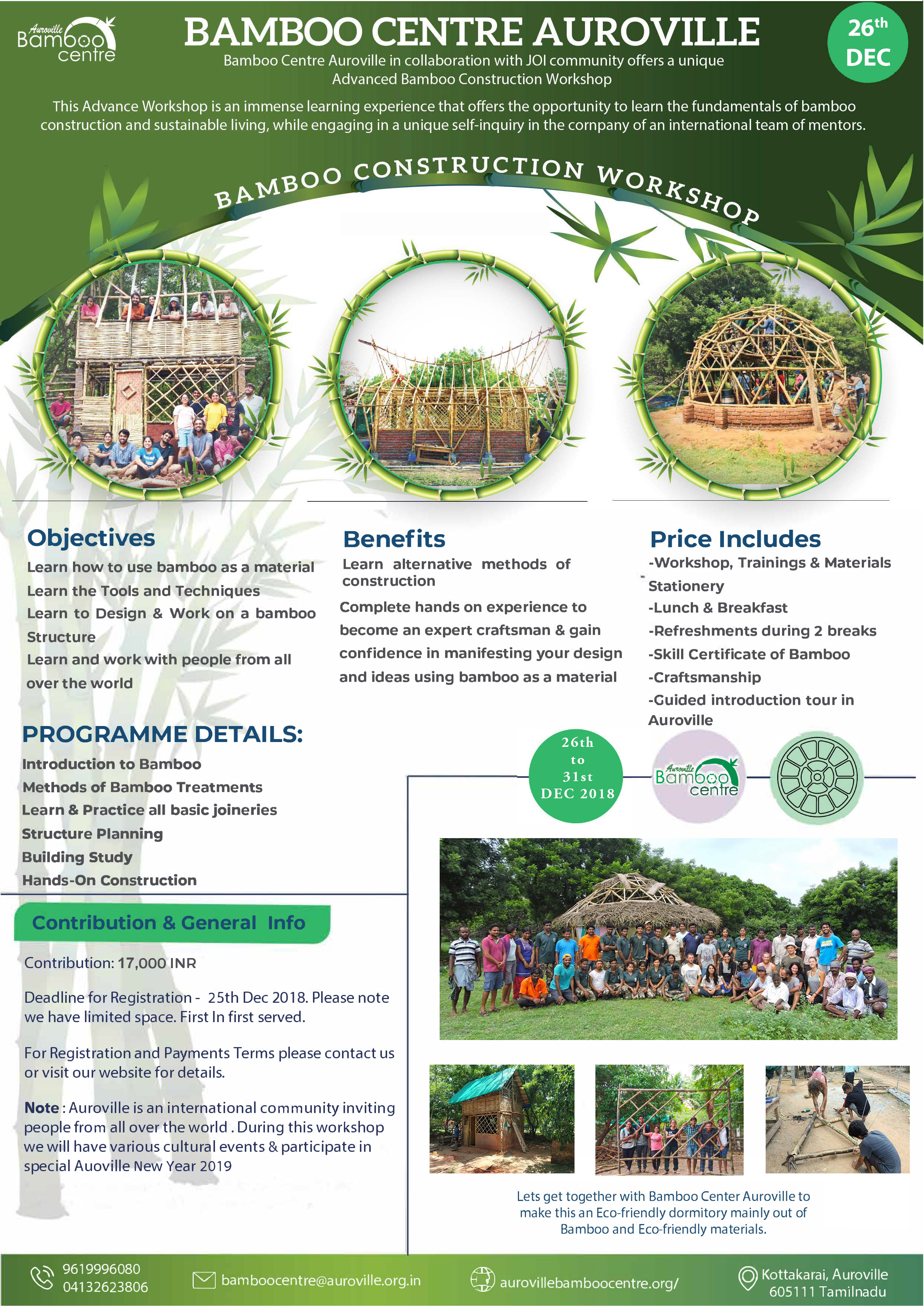 Bamboo grows all around the world and is abundant across South-east Asia. It is the most sustainable material in the world; also it is affordable, easy to work with and has a very low carbon footprint. It is known to be a material of the people and can be used for basic self-construction projects or multi-storied structures with high engineering precision.
Over the years the Auroville Bamboo Centre has aimed at teaching participants how to become experts at working with Bamboo. We offer basic trainings for beginners and offer advanced courses for professionals and enthusiasts working with Bamboo. Students have built bridges, storerooms, showrooms, workshops, houses, public toilets, domes and many fanciful structures using a variety of techniques which integrate bamboo, steel, jute, lime, and earth as their primary components.
At Bamboo Centre you have an opportunity to work and live in a completely Bamboo styled community, to give you a thorough experience of Bamboo Lyfstyle.
GEODESIC DOME
Geodesic Dome is a hemi – spherical structure made from split bamboo. The shape helps distribute the structural stress throughout the structure. It is a perfect example of low cost construction.
ABOUT THE WORKSHOP:
This is a special workshop, where you will learn how to design and build an 18 – feet tall Geodesic Dome using bamboo; with also introduction to roofing solution. Also, you will learn different ways of finishing the structure.
This kind of workshop will give you insights about building with natural materials.
This will be a completely hands-on experience for you, as you yourself will learn the process and make it yourself, with the guidance of the faculties and skilled bamboo technicians
The Bamboo Geodesic Dome Construction Workshop is a 1-week immersive learning experience that offers the opportunity to learn the fundamentals of bamboo construction and sustainable living, while engaging in a unique self-inquiry in the company of an international team of mentors. The Camp takes place in Auroville, a dynamic international community committed to sustainable living, radical experimentation and personal development. You will learn how to design and build a geodesic dome using bamboo; also you will learn different ways of finishing the structure. This kind of workshop will give you insights about building with natural materials.
OBJECTIVES
Learn how to use Bamboo as a Material
Learn the Tools and Techniques
Learn different Joineries in detail
Interact with Technicians and Faculties for Problem Solving
Learn to Work and Design with Bamboo
Learn site work set up
Complete Hands –On Experience with Building a "Live Bamboo Structure"
Learn and work with people all over the world
BENEFITS
Students will receive knowledge and skills as well as awareness of and practice in utilizing technologies that use bamboo, possibly in combination with other materials, and that help to conserve the environment. To become expert craftsman, confident in manifesting your design and ideas using bamboo as a material.
FOR WHOM
This workshop is for architecture and interiors students in particular, but also for anyone who would like to know more about bamboo construction and to try it in practice. Students, Professionals, Artists, Architects, Designers of all fields and Hobbyist are invited. No previous experience required.
It is perfect for anyone who wants to gain skills and hands-on experience working with bamboo, one of the most eco-friendly building materials, while also exploring various aspects of sustainable living. It is also for anyone who is concerned about building a more environmentally sustainable world.
An essential aspect of building a more sustainable world is the quality of the consciousness we bring to it.  Our outer environment – whether built or natural – reflects the state of our inner awareness.
NATURAL BUILDING WITH BAMBOO
Bamboo is an eco-friendly natural resource known for its rapid growth. As a core component of the Camp, participants will gain the basic knowledge, skills and practice needed for bamboo construction, as well as technologies that use bamboo in combination with other materials.  Sessions include:
Theory and practice of working with bamboo
Treating bamboo against insects
Bamboo techniques: bending, cutting, joineries, split and weave bamboo
Bamboo hands-on construction
After learning basic skills in bamboo technology, participants will help in making a live bamboo structure and learn the know-how of building construction & interiors.
 PROGRAMME OUTLINE
The Bamboo Geodesic Dome Construction Workshop will take place over 6 days, covering full day intensive sessions offered daily from 9 AM to 5 PM.  The sessions are offered according to area of focus, as follows:
Overview of the Program
Day 1:                                     
'Introduction to Bamboo'; the material and its properties,
Its application and matters relating to its use in construction.
Introduction to Tools
Demonstration/Training sessions:
Fish mouth Joinery
Splitting bamboo
Bending-straightening bamboo
Day 2: 
Introduction to traditional joineries
Introduction to Structure Design
Team Building exercise
Work on Designing the Structure
Select Material
Site preparation
Day 3:
Start work on Geodesic Dome Structure
Day 4:           
Work on Geodesic Dome Structure

Day 5:            
Work on Geodesic Dome Structure

Day 6:
Completion of Structure
Final Completion
Feedback Session & Certification

Things to bring for the workshop, (Optional -If not, will be available at the Bamboo store)
Umbrella / Raincoat (Since it will be monsoon in Auroville during October – November)
Working Gloves;
Loose and comfortable clothes for Site Work;
Pair of closed shoes or sandals;
Air Mask;
Ear plugs;
A Cap;
Eye Protective Goggles;
CONTRIBUTION   Rs. 17,000/- ;
Inclusive of:
* 18 % GST
* 15 % Special Discount
* Also Includes:
*   Workshop, Trainings & Materials
*   Stationery
*   Breakfast & Lunch
*   Refreshments during 2 breaks
*   Accommodation in Bamboo huts  (Optional)
*   Skill Certificate of Bamboo Craftsmanship
PAYMENT POLICIES & DETAILS:

You can register by paying a minimum of 50% of the course fees as below with the balance payment payable 2 days prior to commencement of workshop.
Here are the payment details:
Payment by cheque or Demand Draft sent by registered mail to Bamboo Centre in the name of Bamboo Centre Auroville.
Or by funds transfer as follows:
Account Name:  BAMBOO CENTRE AUROVILLE
Account No:  37305096352
Branch Name:  Auroville international Township Branch
A/C with: State Bank of India
IFSC Code:  SBIN0003160
Address: Kuilpalayam
Auroville – 605 111
INDIA
Please email a copy of electronic transfer and/or the deposit slip as proof of payment transfer and include the name of the account holder and the name of the city that you are transferring the funds from.
Cancellation Policies:
Cancellation from the student-side: Up to 2 days before workshop commencement we retain 25% of total fee due. From 2 days to workshop commencement we retain the 50% total fee. Notes: All booking communication is completed in writing by email.
Cancellation from Bamboo Centre: We refund you 100% if we cancel the workshop.
Auroville has a strict no alcohol or drugs policy. Anyone disregarding these rules will be requested to leave the community immediately and no refunds will apply. 
ABOUT:
The Bamboo Centre, situated in Auroville was started in 2009 with the intention of developing a space for excellence in Bamboo Research. The Bamboo Centre is a training institute dedicated to teaching about Bamboo as a material and various application of Bamboo. We are of firm belief, as Bamboo is the most sustainable material in the world, it can contribute in solving all the major challenges world is facing today, from global warming to Poverty, from housing crisis to energy scarcity, from Healthy food to Healthy products. Bamboo Centre is inviting students from all over the world and offering various types of workshop all year long. At Bamboo Centre it is possible to learn about Bamboo from farm to finishing, everything. And all the workshop modules are designed with complete hands-on training and experience. All Artists, Architects, Designers and Hobbyist are welcome to the Bamboo Centre to find a training that matches their requirement, Details of workshop and registration is available on our website www.aurovillebamboocentre.org