03may(may 3)9:00 am05(may 5)5:00 amEvent OverEvent CancelledKeeth Roof Workshop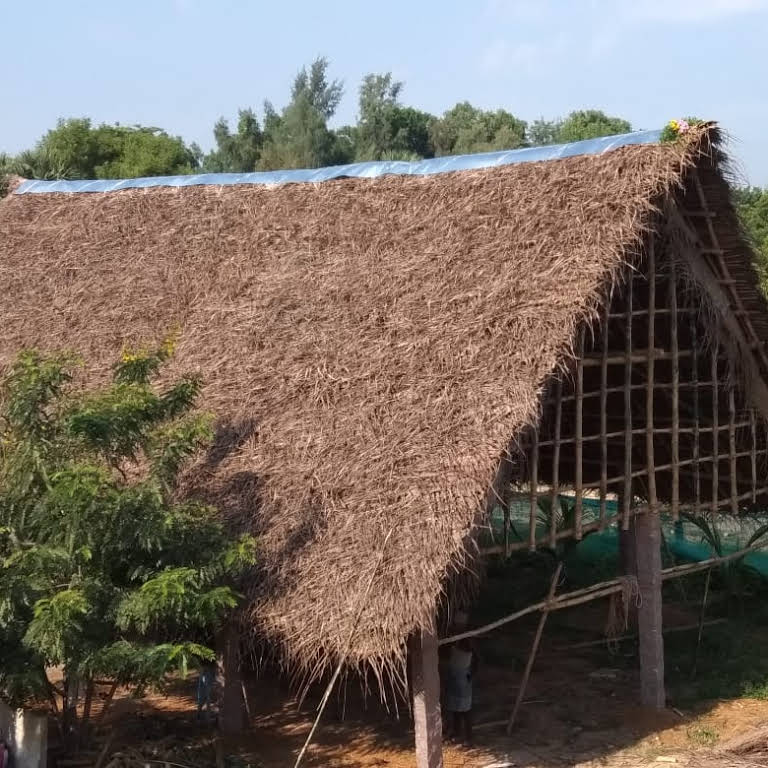 Event Details
Overview:
The Bamboo Yurt Workshop is a 1-week immersive learning experience that offers the opportunity to learn the fundamentals of bamboo yurt and tradational keeth roofing techiniques, while engaging in a unique self-inquiry in the company of an international team of mentors.  The workshop takes place in Auroville, a dynamic international community committed to sustainable living, radical experimentation and personal development. 
Tradition and innovation- these are the two pillars within which Bamboo Yurt workshop's creative pendulum strives to swing. Following the practice of ancient Mongolian yurts, participants of Bamboo Yurt workshop, a build and design course in Bamboo centre, will create a bamboo yurt whose walls can be collapsed and deployed in an instant. 
The yurt's frame is made from bamboo. It is pre-assembled on the ground and parametrically designed. By increasing the spacings between each intersection, the structure's partition is given a slight inclination, creating a beautiful profile. Triangulation is introduced through a round wheel at the top of a reciprocal hyperbolic roof, and a rope interlaced at the junction of the partition and the roof. The wall frame opens freely until it reaches a tensile state. Variations of its length allow for adaptation of the yurt's profile.
Keeth roofing is a traditional, natural roofing material, prevalent in vernacular regions of South India. The participants will learn this deep-rooted traditional, and sustainable technique of keeth roofing in the Keeth Roof Workshop.
Being made out of bamboo, the structure is both light and economical. Once retracted, it easily fits into a shipping container. Could it be the ideal solution for temporary shelter victims of natural disasters in tropical regions? While the range of practical applications of such modular structures is endless, so are the opportunities that bamboo's versatility offers us. Join Bamboo Yurt workshop  to learn how to design and build with this extraordinary sustainable material.
BENEFITS & WHO IS THIS FOR?
Bamboo Yurt workshop Build & Design courses are immersive educational experiences in the heart of Bamboo Centre, Auroville. The program provides students with a foundation in bamboo construction to inform their work as designers, architects, engineers, developers, entrepreneurs, and environmental advocates. 
PROGRAMME OUTLINE
The Bamboo Yurt workshop will take place over 7 days, covering full day intensive sessions offered daily from 9 AM to 5 PM.  The sessions are offered as follows:
Theory and practice of working with bamboo

Harvesting bamboo and working in a bamboo forest

Treating bamboo against insects

Bamboo carpentry: bending, cutting, joineries, split and weave bamboo

Bamboo construction

Keeth roofing 
Things to bring for the workshop, (Optional)
Loose and comfortable clothes for Site Work;

Air Mask;

Ear plugs;

A Cap;

Eye Protective Goggles;

A Book and a Pen

Tarch light 
GENERAL INFORMATION
Programme Rate: 14500 Rs. * Includes:
All lunch for 7 days (vegetarian meals a day) 

Construction workshop

Training Materials 

Refreshment twice a day

Certificate of attendance
Terms: 

50% deposit of workshop fee required on booking with balance payable prior to commencement of workshop.

Cancellation:

 Up to 2 weeks before workshop commencement we retain 25% of total fee due.
From 2 days to workshop commencement we retain the 50% total fee.
Notes:

 All booking communication is completed in writing by email.
Auroville has a strict no alcohol or drugs policy. Anyone disregarding these rules will be requested to leave the community immediately and no refunds will apply.
Transportation  Motorbikes can be rented at an extra cost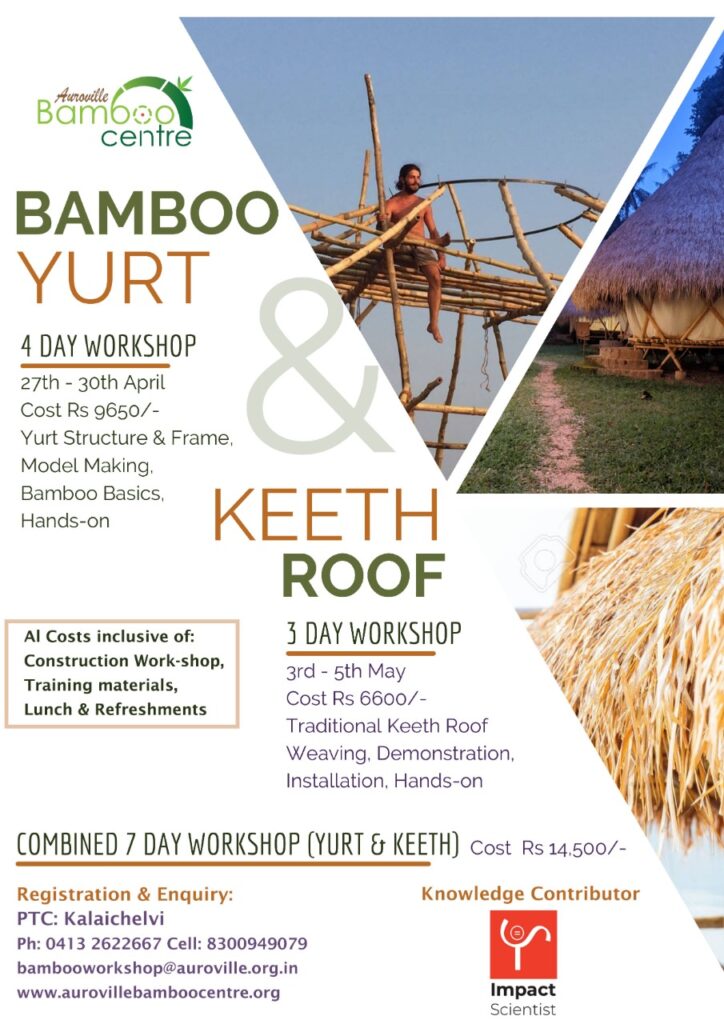 Auroville Bamboo CentreKottakarai RoadKottakarai Road, Auroville, Tamil Nadu 605101
RSVP to event
RSVPing is closed at this time.