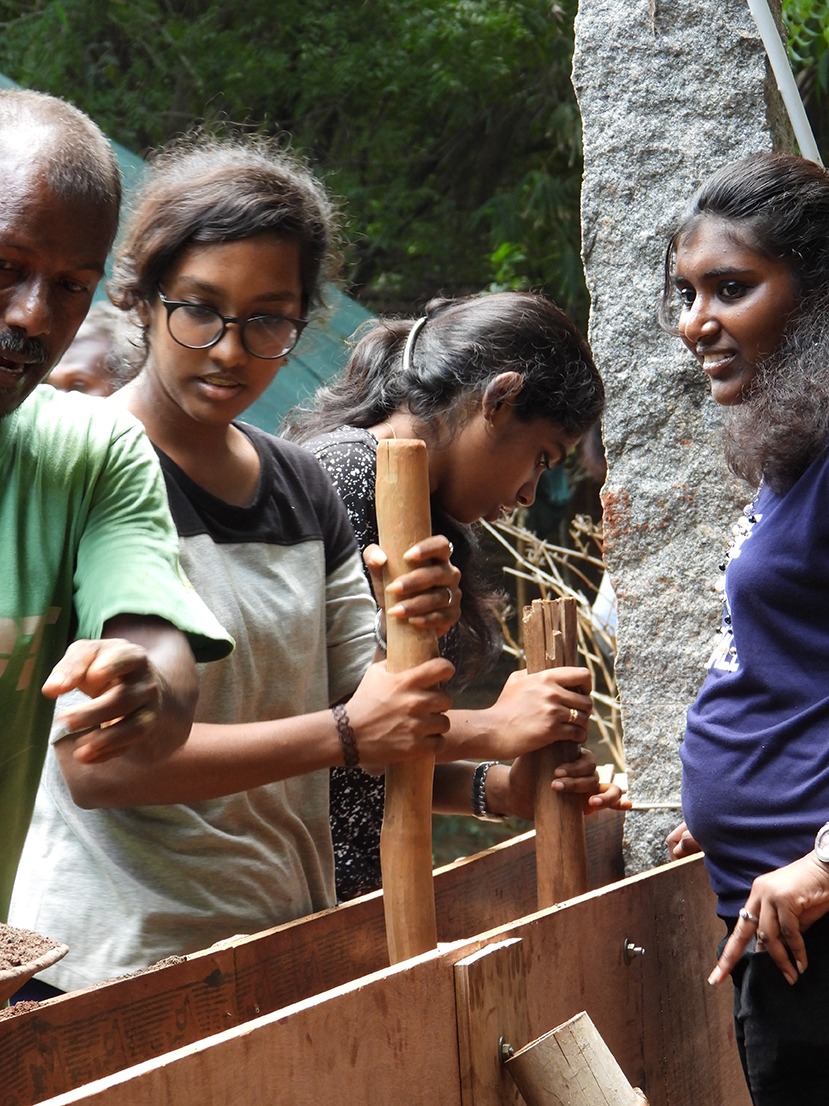 Bamboo and Poured Mud Concrete Workshop
Overview:
The Bamboo and Poured Mud Concrete workshop is a 3 days -weekimmersive learning experience that offers the opportunity to learn the fundamentals of bamboo construction and Poured earth concrete, while engaging in a unique self-inquiry in the company of an international team of mentors. The workshop takes place in Auroville, a dynamic international community committed to sustainable living, radical experimentation and personal development.
BENEFITS & WHO IS THIS FOR?
The Poured Mud Concrete workshop is perfect for Environmentalist, Green Practitioners and anyone who wants to gain skills on sustainable lifestyle and hands-on experience working with bamboo, one of the most eco-friendly building materials, while also exploring various aspects of sustainable living. It is for anyone who is concerned about building a more environmentally sustainable world. (e.g. engineers, architects, technicians, supervisors, masons, students and laymen).
An essential aspect of building a more sustainable world is the quality of the consciousness we bring to it. Our outer environment – whether built or natural – reflects the state of our inner awareness. PROGRAMME OUTLINE
The Poured Mud Concrete workshop will take place over 3 days, covering full day intensive sessions offered daily from 9 AM to 5 PM.  The sessions are offered according to two areas of focus, as follows:
1. NATURAL BUILDING WITH BAMBOO
Bamboo is an eco-friendly natural resource known for its rapid growth. As a core component of the workshop, participants will gain the basic knowledge, skills and practice needed for bamboo construction, as well as technologies that use bamboo in combination with other materials.  Sessions include:
Theory and practice of working with bamboo

Treating bamboo against insects

Bamboo carpentry: bending, cutting, joineries, split and weave bamboo

Bamboo construction
After learning basic skills in bamboo technology, participants will help in making a bamboo structure and learn the know-how of building construction. 
2. POURED MUD CONCRETE
Understanding material characterization is extremely important for implementing proper interventions; however there is a step between material diagnosis and treatment: suitability of the material—in this case the soil—to be used for the original construction of a particular site.
Poured Mud Concrete is presently underutilized, and has great potential for poured foundations, walls, slabs and beams, and roads. Poured Earth Concrete mixes that achieve desired flow characteristics, while maintaining dry and wet strength, low water absorption, and low shrinkage. Deriving mixes appropriate to local soils, the necessary testing and finalization of formulations, with additions of plasticizers, and waterproofing agents, have been explored.
OBJECTIVES AS A RESULT OF THIS WORKSHOP:


Classify and characterize soils by texture (organic, gravely, sandy, silty, and claley soils)



Identify concrete, dry, humid, plastic, soft, and liquid hydration states of soils and how those are found in nature



Build wet, plastic, humid, and compressed earthen molds using different types of soils and determine the water content of each



Identify, describe and understand the main earthen construction techniques



Build scale models using the most common earthen construction techniques
Things to bring for the workshop, (Optional)
Loose and comfortable clothes for Site Work;

Air Mask;

Ear plugs;

A Cap;

Eye Protective Goggles;

A Book and a Pen

Tarch light
GENERAL INFORMATION
Programme Rate: Rs. 7000 * Includes:
Lunch for

3

days ( vegetarian meals)

Raw materials

Refreshments twice a day

Stationaries

Certificate of attendance
Terms: 

50% deposit of workshop fee required on booking with balance payable prior to commencement of workshop.

Cancellation:

 Up to 2 weeks before workshop commencement we retain 25% of total fee due.

From 2 days to workshop commencement we retain the 50% total fee.

Notes:

 All booking communication is completed in writing by email.

Auroville has a strict no alcohol or drugs policy. Anyone disregarding these rules will be requested to leave the community immediately and no refunds will apply.