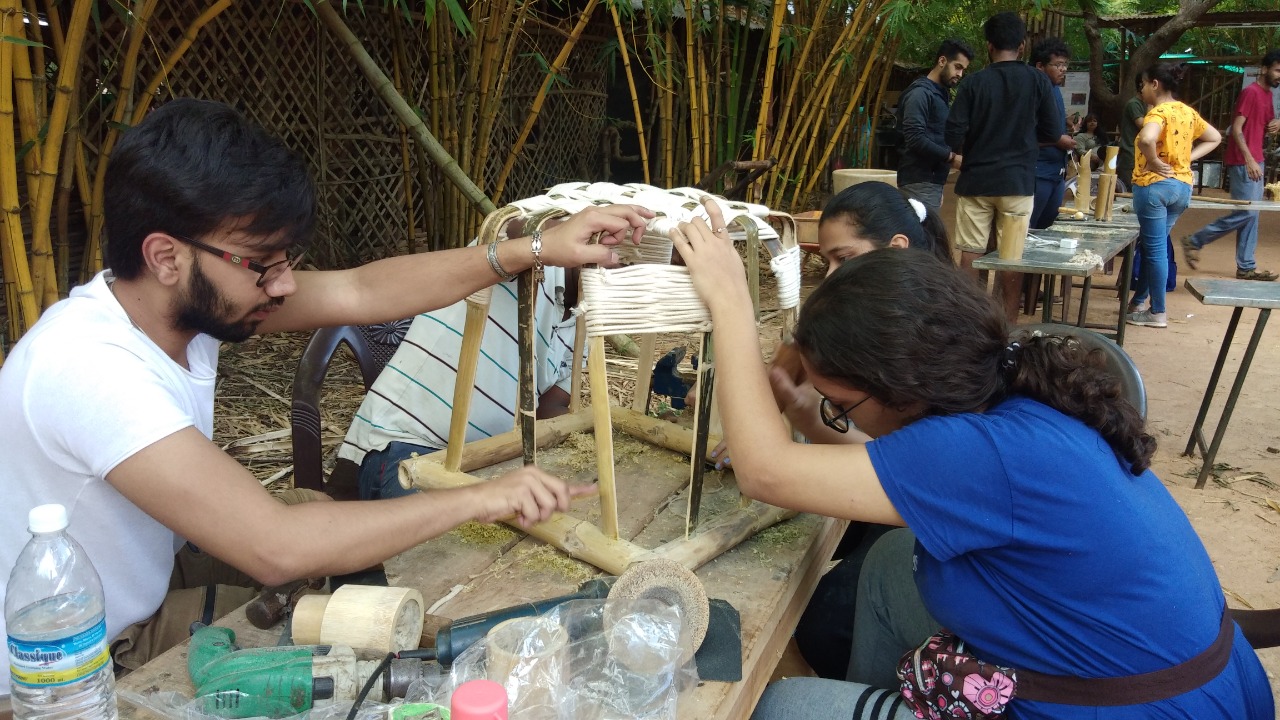 BAMBOO PRODUCT DESIGN WORKSHOP
Overview:
This workshop focuses on small scale products and interiors making from bamboo and wood combination for example chairs, table s, shelves, lamps, etc…
Bamboo grows all around the world and is abundant across Southeast Asia. It is the most sustainable material in the world; also it is affordable, easy to work with and has a very low carbon footprint. It is known to be a material of the people and can be used for basic self-construction projects or multi-storied structures with high engineering precision.
Over the years the Auroville Bamboo Centre has aimed at teaching participants how to become experts at working with Bamboo. We offer basic trainings for beginners and offer advanced courses for professionals and enthusiasts working with Bamboo. Students have built bridges, storerooms, showrooms, workshops, houses, public toilets, domes and many fanciful structures using a variety of techniques which integrate bamboo, steel, jute, lime, and earth as their primary components.
At Bamboo Centre you have an opportunity to work and live in a completely  Bamboo styled community, to give you a thorough experience of Bamboo Lifestyle. 
BENEFITS & WHO IS THIS FOR?
Participants will receive knowledge and skills as well as awareness of and practice in utilizing technologies that use bamboo, possibly in combination with other materials, and that help to conserve the environment.To become expert craftsman, confident in manifesting your design and ideas using bamboo as a material.
This workshop is for designing students in particular, but also for anyone who would like to know more about bamboo furniture and interior and to try it in practice. Students, Professionals, Artists, Architects, Designers of all fields and Hobbyist are invited. No previous experience required.
PROGRAMME OUTLINE
The Bamboo Product and Interior Design workshop will take place over 4 days, covering full day intensive sessions offered daily from 9 AM to 5 PM. 
Topics to be covered include:
Learning how to use bamboo as a material.

Learning the Tools and Techniques.

Interacting with Technicians and Faculties for Problem Solving.

Learning to work and design with Bamboo.

Complete Hands –On Experience.

Learn and work with people all over the world.

Learn site work set up

 

Learn critical theory about Bamboo and its Uses

Learn Cutting and joineries

Learn Spliting

Learn Bending and Straightening
Breaks; Same Schedule Every day of Workshop
10:30 – 10: 45             Tea Break
12:30 – 01:30              Lunch Break
03:30 – 03:45              Tea Break
Things to bring for the workshop, (Optional)
Loose and comfortable clothes for Site Work;

Air Mask;

Ear plugs;

A Cap;

Eye Protective Goggles;

A Book and a Pen
GENERAL INFORMATION
Programme Rate: Rs. 7000 * includes:
Vegetarian meals for 4 days

Refreshments twice a day

Stationaries

Certificate of attendance

Workshop, Trainings & Materials
Terms: 

50% deposit of workshop fee required on booking with balance payable prior to commencement of workshop.

Cancellation:

 Up to 2 weeks before workshop commencement we retain 25% of total fee due.

From 2 days to workshop commencement we retain the 50% total fee.

Notes:

 All booking communication is completed in writing by email.

Auroville has a strict no alcohol or drugs policy. Anyone disregarding these rules will be requested to leave the community immediately and no refunds will apply.

Accommodations:

  Various accommodation available in Auroville

Transportation

 within Auroville will be by bicycle, which is included in the programme rate. (Motorbikes can be rented at an extra cost)